SWITZERLAND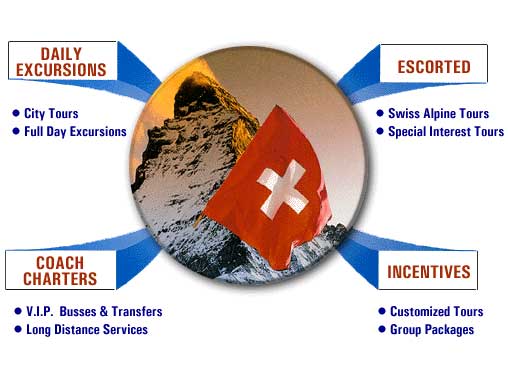 MEIER TOURS - Hans Meier Tourist Ltd. the #1 innovative TOUR - OPERATOR in Switzerland with its own Fleet of deluxe motor coaches, Knows What it Takes To Be The "TOPS " in our Industry. A Proven History of 65 Years of Quality; Stability, Integrity Resulting from Higher Operating Standards. A Reputation for Reliability....

For a detailed program of our tours or further information please
feel free to contact us.
MEIER TOURS - GRAY LINE ZURICH

Hans Meier Tourist Ltd.
Jupiterstrasse 35, CH-8032 Zurich
Switzerland
Phone: +41 (0)44 383 7878
Fax: +41 (0)44 383 1705
E-Mail: meier@meiertours.ch

Assurance of Customer Money: Hans Meier Tourist Ltd. is a member of the guarantee fund of the Swiss Federation of Travel Agents (www.reisegarantie.ch) and guarantees the security of money received in connection with bookings.


THE LEADING SWISS TOUR OPERATOR
| DAILY EXCURSIONS | ESCORTED | COACH CHARTERS | INCENTIVES |